Make Money With YourFreeWorld.com Scripts Affiliate Program
Welcome!
The YourFreeWorld.com Scripts Affiliate Program is free to join, easy to promote, and doesn't required any technical skills or know-how to make money. It's perfect for webmasters that want to create an extra income from their web site visitors, and internet marketers who promote via email and online marketing programs. The process is simple and straightforward... Our affiliates generate traffic to our site, we convert the prospects to customers, and the referrer earns a commission.
How Does Our Affiliate Program Work?
When you signup for our affiliate program today, you will be provided with a tracked affiliate link to use in your promotions. We also have a range of ads and graphics that you can utilize in your advertising, both on your web site and via email and online marketing methods.
When a prospect clicks on one of your links, and is automatically redirected to our site, our affiliate script lets us know that you are the affiliate that sent us that particular prospect so that when they buy a script from us, your account will be credited with the appropriate amount of commission.
How Much Commission Can You Make?
We pay our affiliates a generous flat rate payment of $20 per product sold for most of our products.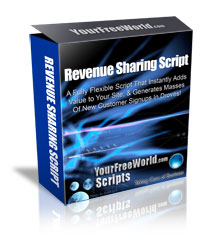 Even if your referrals buy one of our $25 scripts, you'll still receive $20.
Now that we have an extended range of even more popular scripts, we've literally upped the ante to pay our affiliates $50 per sale for the following scripts:
If you sold just 1-2 scripts per week, and that's a conservative estimate... you could generate a potential extra income of $160 to $400 per month. The more you promote, the more you can earn!
Why Sell Our Products?
Our scripts are in-demand and very popular, with many scripts being sold each week. Most of our customers have a distinct need for our scripts, and they practically sell themselves.
With more than 8 years of product stability, competitive pricing, thousands of satisfied customers, and outstanding customer service, is it any wonder that YourFreeWorld is leading the way in innovative script development online? We have already paid out thousands of dollars in commissions to our affiliates. We're here for the long-term, and plan to be around for many more years to come.
What Else Do I Need To Know?
We provide all our affiliates with:
Online real-time statistics that show how many visitors you've sent to your affiliate link, total earnings, and commissions paid.
A large range of promotional materials to attract new customers, including ad copy, signature lines, and banners.
Commission paid via PayPal. There is no minimum payout required, and no need to wait for the end of the month to receive a payout. You can request your commissions whenever you like.
Ready To Join Our Affiliate Program & Start Making Money Now?
Simply Fill Out The Form Below To Complete The Signup Process