Shopping Cart Script with Affiliate Program
Got Something To Sell? Then This Script
Will Do It For You While Creating
An Army Of Affiliates To Promote It For You!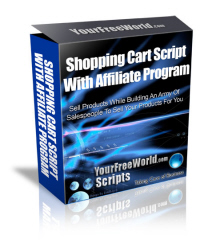 Whether you want to sell digital or physical products, this fully featured shopping cart script is the perfect solution for managing your business. With a simple, straightforward administration area, you can add as many categories and products as you wish, view pending order, past orders, and email customers. But even better, you can attract affiliates to promote your online store, and make either a percentage commission or flat rate commission per sale down to 3 levels as preferred. Emailing affiliates is as simple as clicking a few buttons, and typing in your message. This quality script includes built-in product search capability to enable your customers to find exactly what they're looking for quick smart, and shows featured products with associated images. You can even offer up to 5 merchant programs for the convenience of your shoppers. Truly a jam packed script with many attractive features that you should check out today!
Demo:
Terms & Conditions
One License is for a single Domain only.

You are not allowed it to use it at more than 1 domain or sell / lease this script in any form.

All copyright notices used within the scripts MUST remain intact.
Requirements
Unix/Linux Server

PHP 4.0 or higher

Mysql Database Support

Ioncube Loader

GD Library

cURL
Notes
The design of any HTML pages, including interfaces, must be changed and/or modified by yourself.
Script Features
Easy management

Add/Delete Products Categories

Add/Delete Products

Coupons System to offer discount coupons to others

View/Edit/Delete members

Mail Members

Paypal and Alertpay compatible and you can also add 5 more merchant accounts of your wish.

Completely Customizable affiliate program upto 3 levels.

You can change the settings to Pay Affiliates either fixed % of sale or fixed $ amount of each sale.

You can change the settings to Pay Affiliates either per product or per complete order.

View/Edit/Delete Affiliates.

Mail Affiliates.

Edit Your Pages by placing the HTML code into the system for the Terms and Payment Thank you pages.

Set the YourFreeWorld.com Scripts Affiliate ID to earn commissions from script sales from your ID.

Set the Shipping Charges ( Base Charges & Item Charges )

View Orders

And more....
Script with
Single Domain License
Only $129
Add To Cart
For a limited time, we will install this script for you absolutely FREE!