Ads Manager Script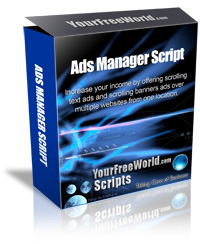 When you consider that these days most webmasters own more than one site, then it just makes good sense to have a powerful script that will handle multiple ads on multiple websites. Why? So you can easily increase your income passively.
Let's face it... If you aren't inter-promoting your websites on each site that you own, then you're missing out on extra income! If you have any websites that receivea lot of traffic, then this is an affordable revenue-generating script that will work automatically for you to promote your own offers and websites. At the very same time, you can also offer extended value advertising services to your site visitors to promote their offers for a fee.
With this powerful script, you can offer attractive text ads and banner ads, with the further capability of also offer scrolling text ads and scrolling banner ads! Mouse-over pause enabled when someone points at an ad included. Discover just how popular these forms of advertising are once you install it to your website and start receiving orders from eager advertisers.
Don't get left behind your competition... Secure your copy of this must-have script today, and you can have it up and running in next to no time! Don't know how to install scripts to your main website? No problem! We can do it for you at no extra cost.
If you don't have a website of your own, then maybe it's time you considered starting up one so you can make more money online today. Simply check out our script store for plenty of money-making scripts to suit all niches.
Demo:
Requirements
Unix/Linux Server

PHP 4.0 or higher

Mysql Database Support

Ioncube Loader

GD Library

cURL
Terms & Conditions
One License is for a single Domain only.

All copyright notices used within the scripts MUST remain intact.
---
Notes
The design of any HTML pages, including interfaces, must be changed and/or modified by yourself.
Script Features:
Easy ad package management of text ads and banner ads on single or multiple websites.

Create your own ad packages for different banner sizes/text ads, numbers of views and length of time from the easy-to-navigate admin area.

Complete control over ad boxes. You can define width and height of the ad box or banner, number of ads to be displayed at a time, scrolling speed, colours etc...

Paste in a small snippet of code on the website/s you want to display your ads on. There is no limit to how many websites you can add the script to! (No prior programming knowledge required either).

Approve/Reject/Delete ads from the admin area.

Order Tracking feature for advertisers to login and view the real-time statistics of their order/s.

Paypal and Payza compatible with the ability to add 5 more merchant accounts of your choice.

Edit Your Pages by placing the HTML code into the system for the Home and Thank you pages. (A great place to add your own bonuses!)

Customise the order approval email.

Email members function.

Set your personal YourFreeWorld.com Scripts Affiliate ID to earn $20-$50 commissions from script sales from your websites.

Helpful at-a-glance admin statistics.

And so much more....
Script with
Single Domain License
Only $129
Add To Cart
For a limited time, we will install this script for you absolutely FREE!