Stylish Text Ads Script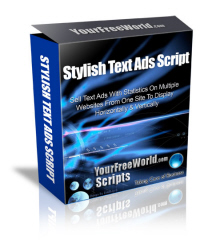 Stylish Text Ads Script can be one of the most useful tools for any webmaster.
If you own 1 or more websites and want to sell text ads then this tool can be one of the best tool for you.
Our Stylish Text Ads script allows you to sell text ads on multiple websites from 1 place only. You can display textads in a vertical and horizontal ad boxes. Click Here to see sample ad boxes.
You can provide your advertisers with real time stats of impressions and hits.
This script is easy to install and comes with a Free Installation so if you need any help in installations we will install it for no extra cost.
And the best thing is that if you will buy it now you will get this script for just $59.
Demo:
Requirements
Unix/Linux Server

PHP 4.0 or higher

Mysql Database Support

Ioncube Loader

GD Library

cURL
Terms & Conditions
One License is for a single Domain only.

All copyright notices used within the scripts MUST remain intact.
---
Notes
The design of any HTML pages, including interfaces, must be changed and/or modified by yourself.
Script Features:
Easy Management

Create your own ad packages from admin area

Complete control over ad boxes. You can define fonts,size,color of ads, number of ads to be displayed at a time, number of lines per ads etc...

Put a single line code on the websites where you want to display textads (No Programming knowledge required)

Approve / Reject textads from admin area

Orders Tracking feature for advertisers to view the real time stats of there order

Paypal compatible and you can also add 5 more merchant accounts of your wish.

Edit Your Pages by placing the HTML code into the system for the Home and Thank you pages.

Customise the order approval email.

Set the YourFreeWorld.com Scripts Affiliate ID to earn commissions from script sales from your ID.

And more....
Script with
Single Domain License
Only $59
Add To Cart
For a limited time, we will install this script for you absolutely FREE!