Forced Matrix Script (Subscription version)
Here's A Quick Way To Generate
A Residual Income At Your Web Site!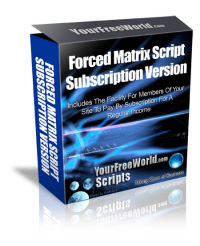 As you may already know, matrix programs have been very popular online and rapidly gaining popularity over the last decade. Now you can run your own matrix from your site and attract new members to pay a monthly subscription to join. With full flexibility, you set the monthly joining fee, and the commission payouts on each level down to 10 levels. The matrix can be up to 10 times wide, or as narrow as you wish. Either way, with the inclusion of matching bonuses, banner impressions, text ads and a huge download package on offer, your prospects will quickly decide to become members of your program. There's very little effort required to setup this script, and you can be launching within days of installation, and generating revenue!
Demo:
Requirements
Unix/Linux Server

PHP 4.0 or higher

Mysql Database Support

Ioncube Loader

GD Library

cURL
Terms & Conditions
One License is for a single Domain only.

You are not allowed it to use it at more than 1 domain or sell / lease this script in any form.

All copyright notices used within the scripts MUST remain intact.
---
Notes
The design of any HTML pages, including interfaces, must be changed and/or modified by yourself.
Script Features:
Easy management

Set the membership fee

Define your own m * n Forced matrix upto 10 * 10 Levels Deep

Set Commissions for Referral Levels upto 10 Levels Deep

Set Matching Bonus Commissions for Sponsor on Direct Referrals Downlines upto 10 Level Deep

Set the subscription period daily or weekly or monthly...

Set the special Referral Bonus for members for introducing new members to your system

Compress Matrix feature to reset the matrix anytime and fillup holes

E-mail all members

View/Edit/Delete members

You can also add 5 more merchant accounts of your wish.

Edit Your Pages by placing the HTML code into the system for the FAQ, Home, Logout and Member's Area Home pages.

Customise the welcome, account activation and other emails.

Add/Delete ads and banners for members to promote your service.

Set the YourFreeWorld.com Scripts Affiliate ID to earn commissions from script sales from your ID.

And more....

Banner Ads Addon: Offer x banner(s) to members to be rotated throughout your website.
Text Ads Addon: Offer x text ad(s) to members to be rotated throughout your website.
Subscription Forcedmatrix Script
Only $199
Add To Cart
For a limited time, we will install this script for you absolutely FREE!