Search Engine Submitter Script
How To Provide A Popular Service That's In Demand Online!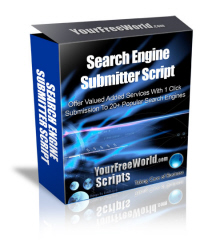 Anyone with a web site that needs to attract web site visitors knows that for prospects to find them, they need to have their site listed in the search engines. That's why search engine submission services are highly sought after. You can charge for your service, and generate an income on a subscription basis, or you can provide a free service as you prefer. This script is preloaded with over 20 search engines that your members can submit their site to, and you have the flexibility of adding more search engines over time. From the admin area, you can view active members, pending members to activate, email members, view search engines, and add more search engines. If you offer a subscription-based service, you can also renew subscriptions as they are paid. Adding a search engine submitter script to your web site will add value, while generating a member list and more income for very little effort!
Demo:
Requirements
Unix/Linux Server

PHP 4.0 or higher

Mysql Database Support

Ioncube Loader

GD Library

cURL
Terms & Conditions
One License is for a single Domain only.

All copyright notices used within the scripts MUST remain intact.
---
Notes
The design of any HTML pages, including interfaces, must be changed and/or modified by yourself.
Script Features:
Easy management

Set the Membership fee

Set it as a free/paid service

20+ Searchengines list already included

Add/Remove Search Engines

Fully Automatic Submission to Search Engines

View/Edit/Delete Members records

Mail Members

Paypal compatible and you can also add 5 more merchant accounts of your wish.

Edit Your Pages by placing the HTML code into the system for the FAQ, Home, Logout and Member's Area Home pages.

Customise the welcome, account upgrade, referral notification and other emails.

Add/Delete ads and banners for members to promote your service.

Set the YourFreeWorld.com Scripts Affiliate ID to earn commissions from script sales from your ID.

And more....
Script with
Single Domain License
Only $69
Add To Cart
For a limited time, we will install this script for you absolutely FREE!