POP3 Mail Account Cleaner Service Script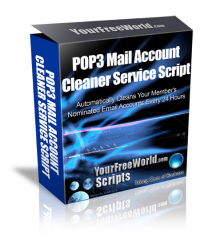 Here's A Value-Adding Service Script That Any Webmaster Would Be Proud To Own!
With the volume of emails rapidly increasing across the internet, this is one script that will add value to any web site. A highly sought after service, pop3 mail box cleaners are in demand across the web, and make it easy to generate an extra income. As advertisers who join safelists often receive high volumes of email, they're constantly deleting emails to keep their inbox under the maximum level, and this can become a tedious and time intensive undertaking. Therefore by offering a service such as this, you'll find that it attracts paying members like honey to the bee. This script is compatible with PayPal and Stormpay, and the admin area is very easy to navigate so you can manage your members. A handy emailing function is also available that allows you to keep in touch with your members. A good quality script that allows you to renew subscriptions as they are verified, with little management work required.
Demo:
Requirements
Unix/Linux Server

PHP 4.0 or higher

Mysql Database Support

Imap Module

Ioncube Loader

GD Library

cURL
Terms & Conditions
One License is for a single Domain only.

All copyright notices used within the scripts MUST remain intact.
Notes
The design of any HTML pages, including interfaces, must be changed and/or modified by yourself.
Script Features
Easy management

Set the Membership Fee

Set the maximum number of mailboxes that can be used by a single user

Fully Automatic clean all the mailboxes once in 24 hours

View/Edit/Delete Members

Mail Members

Paypal compatible and you can also add 5 more merchant accounts of your wish.

Edit Your Pages by placing the HTML code into the system for the FAQ, Home, Logout and Member's Area Home pages.

Customise the welcome, account upgrade, referral notification and other emails.

Add/Delete ads and banners for members to promote your service.

Set the YourFreeWorld.com Scripts Affiliate ID to earn commissions from script sales from your ID.

And more....
Script with
Single Domain License
Only $79
Add to Cart
For a limited time, we will install this script for you absolutely FREE!