MLM Script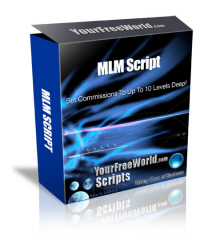 Building A Downline Is Made
Super EASY With This MLM Script!
This is a simple downline building program that will easily attract prospects to join for a one-time fee. You can offer 5 payment processors of your wish, and set the joining fee as you wish. You can also set how many levels you wish to pay commission on, and the amounts per level, down to 10 levels! Successfully build a membership base, email your members, payout commissions and so much more from the easy-to-navigate admin area. Installation is a breeze for this uncomplicated script, and you will be setup and taking new membership fees in next to no time!
Demo:
Requirements
Unix/Linux Server

PHP 4.0 or higher

Mysql Database Support

Ioncube Loader

GD Library

cURL
Terms & Conditions
One License is for a single Domain only.

Reseller License allows you to use this script on as many domains as you like.

With Reseller License, you can sell this script and keep 100% of the profits for yourself.

Resellers are not permitted to sell the Resell License to others, you can only sell the script.

Resellers cannot sell the script below 10% of our asking price.

With Master Resale Rights, you can sell the script , Resale Rights as well as Master Resale Rights. But you cannot sell the script or Resale Rights or Master Rights below 10% of our asking price.

All copyright notices used within the scripts MUST remain intact.
Script Features
Easy management

Set the membership fee

Set Commisions for Referral Levels upto 10 Level Deep

E-mail all members

View/Edit/Delete members

You can also add 5 more merchant accounts of your wish.

Edit Your Pages by placing the HTML code into the system for the FAQ, Home, Logout and Member's Area Home pages.

Customise the welcome, account activation and other emails.

Add/Delete ads and banners for members to promote your service.

Set the YourFreeWorld.com Scripts Affiliate ID to earn commissions from script sales from your ID.

And more....
Notes
The design of any HTML pages, including interfaces, must be changed and/or modified by yourself.
For a limited time, we will install this script for you absolutely FREE!