Easy List Builder Script
"How To Simplify The Process Of Building Your Own Mailing Lists On Autopilot!"
In Fact, It Takes The "Difficult & Time-Consuming" Out Of List Building Altogether..
Just Starting Out & Don't Have An Audience To Sell To?
Wish You Could Build A Responsive List Quickly With Little Cost Involved?
Wondering Exactly How The Money-Making Gurus Actually Manage to Cash-In From Their Lists?
Then Look No Further...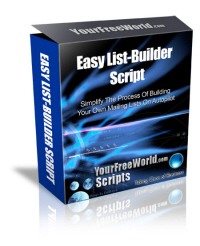 You've probably heard the expression, "The money is in the list", and it's absolutely true. Without a list, you'll either have to use free resources that are overwhelmed with similar offers that don't get read, or dig deep in your pockets to pay to market your opportunities each and every time...
Do either of those very realistic options sound good to you? Probably not right?
We can understand just how frustrating and time-consuming it can be to build your own responsive list. You might pay for advertising that works, but what about your web page? Is it converting your prospects to customers?
Have you ever:
Tried building a list yourself manually without success?
Promoted opt-in pages that don't attract prospects?
Paid for advertising that didn't get published when it was supposed to?
Spent hours using free resources that don't even bring a response?
It's not uncommon... Too many suffer disappointment when relying on other avenues to build a list...
TIP: WORK SMARTER - NOT HARDER!
Introducing the Easy List-Builder Script
Why not market the smart way and use our Easy List-Builder script? You can easily have it installed on your own web server to allow you to promote to a responsive audience, without paying for it each time you post!
Your Free World has developed a quality, robust script to achieve just that. It works simply but very effectively to continually build a list of prospects for you to send your offer to as frequently as you like.
Now it's possible for you to build your own list in very little time, because our script has extra features that you won't normally find elsewhere including:
Complete sales letter with graphics that you can modify to suit your domain.
Top quality products with Master Resale Rights included to utilise to "lure" prospects to download by opting-in to your list. (Value $381.95)
Includes 10,000 Banner Impressions and 10,000 text ad Impressions. (Value $50)
Ability to add more products of your choice to the opt-in page as desired.
Ability to earn $20 affiliate commissions through the "Powered By Your Free World" link in the page footer.
Regular features of this script include:
The ability to send your email offer to your prospects whenever you wish.
Very easy to install to your web server.
User-friendly administration area with full instructions.
Prospect can subscribe to the script very easily.
Ability to change the welcome email that the new subscriber receives.
View subscriber list, pending subscribers, removed subscribers and active subscribers. Details include:

User ID
Name
Email address
Status
IP address
Date subscription started
Edit or delete user

Search for subscribers via email address.
Manually send a mailing and close window - without waiting for mailing to complete. All mailings to your list are carried out while you are doing other, more important things.
Send emails to your list in text or HTML format. User fields such as name, email, IP address and date can be added into your emails as required. A copy will also be sent to the admin email address.
Message history showing you which messages have been sent so far. The display includes: status, subject, message, and action button to delete if you wish.
In compliance with FTC Anti-Spam regulations, an unsubscribe link is automatically inserted into each message sent out.
Set the disclaimer message to display at the top of each message sent out.
At-a-glance viewing of:

Total subscribers
No. of subscribers currently subscribed
No. of subscribers currently pending
No. of subscribers who have been removed from the system
No. of mailings sent by the Administrator
Our Easy List-Builder script is designed to take the worry and effort out of client communications. The benefits of owning this quality script are numerous, and include the ability to:
Run the script from your own domain, which in effect makes you an instant publisher / program / list owner.
Include your own sales letter to suit your site's target market.
Build a list of double opt-in prospects that you can legally email.
Add / remove bonus products to offer your prospects to download automatically as you see fit.
Promote an instant back-door entry to your download area. (A perfect latch for promoting that is proving very popular).
Include an advertising outlet for your prospects that won't cost them a cent.
Add an affiliate program so others can promote your site if you wish. (Simply redirect to a one-time-offer page with an affiliate link in the payment button, such as PayDotCom).
Customise the look and feel of the web page display to match your existing site, or create a new look for a fresh, new web site.
Secured login area for Administration to inspect subscriber information, then logout on completion.
Robust quality script that will stand the test of time and run without a hitch.
It's really up to your own imagination when it comes to what you can do with this script.
You don't have to work overtime to build your list when you can simply utilise this script to encourage new prospects to subscribe to your list. Take our genuine advice...
Make Your Promotions More Effective & Cost-Saving Now!
Take a closer look around the internet and you'll probably find some scripts similar to this one being used... but not with as many feature and with a higher price tag. You can be in full, total control while our script automatically builds your list, adding new subscriber for you even while you sleep!
It's worthwhile for you to take the first step to having your own Easy List Builder script installed on your own domain.
Why is it worthwhile? You can gain by running your own Easy list Builder script on your own domain because:
Affordable License: You can install the script with a single use license on one domain that you own, but it's priced to be affordable for more domains.
Privacy: Your list is on your domain and your precious prospects are only available to you and no one else, ever!
Reliability: When you host your own Easy list Builder script, the service should run more reliably than that of a paid service because you are the only person using it!
Support: If you require support for your script, it is available 24/7 through our support centre.
Enhancements: If you require enhancements to your script, it is available through our development team at competitive rates.
Improved Security: You won't need to worry about being hacked with this fully-featured secure script.
Better mailing process: You can define how many emails you want sent per batch when background mailing is in process on your server. This effectively cuts down on server load and mail queues, keeping your web host happy.
You can save by running your own Easy List-Builder script on your own domain. Just look at the value you'll receive when your purchase this script today:
| | |
| --- | --- |
| Script | Value $97 |
| Sales letter | Value $197 |
| MRR Products | Value $381.95 |
| TOTAL | $675.95 |
Just imagine if you were paying a monthly fee to use a list mailing service online... It would cost you anywhere from $19.95/mth up to $34.95 per month, depending on the package that you purchase. Get our your calculator and work out how much this all adds up to... You might be quite surprised to find that it adds up to several hundred dollars each year! That's quite some overhead for your business to absorb! Can you afford it?
You Can't Afford NOT To Purchase Our New Script...
Today, You Only Pay $37 Once & The Script Is Yours Forever! And It Comes Complete With High Quality MRR Products To Offer Your New Prospects Straight Away PLUS Complete Sales Page & Product Graphics!
What A Bonus!
No Monthly Fees To Pay... EVER!
Grab our Easy List-Builder Script Today & SAVE Money, Time, Effort, Stress & GAIN More New Prospects, Customers & Subscribers To Your List!
You have nothing to lose and so much more to gain by using our Easy List-Builder script.
Terms & Conditions
One License is for a single Domain only.

You are not allowed it to use it at more than 1 domain or sell / lease this script in any form.

All copyright notices used within the scripts MUST remain intact.
Requirements
Unix/Linux Server

PHP 4.0 or higher

Mysql Database Support

Ioncube Loader

GD Library

cURL
Notes
The design of any HTML pages, including interfaces, must be changed and/or modified by yourself.
Script with
Single Domain License
Only $37
Add To Cart
For a limited time, we will install this script for you absolutely FREE!