CyberSnickers Script
JUST PUBLICLY RELEASED:

Now You Can Increase Your Link Strategy With The Humorous Viral Link System That Practically Forces Your Visitors To Add It To Their Site!

Dear Friend:

Did you know that "Jokes", "Humor" and "Funny" are searched on over 113,892 times over a 30 day period? And that's at just two of the lesser known search engines! (Dogpile and Metacrawler!)
Now you can take the one thing almost everyone loves (humor) and let them add it to their page!
It's quick and easy.
I dubbed, "CyberSnickersTM".
When people visit your CyberSnickersTM page, they can have a laugh at the various "snickers" that are there. (They look like mini bumper stickers, for a web page).
They're even offered to put the code on THEIR site completely free... which of course, links back to you, creating a powerful passive Link strategy the search engines love!
You can have it up and running in under 5 minutes, and have people linking to you shortly after!
You can see it in action right here.
You get the full PHP script - (requires MYSQL in order to store the banner / credits / user info).
You get the full website, include the sales page we use to get visitors.
You can even put this script up on multiple sites if you wish! We don't limit you "by domain" as most scripts do. That way, you can have even five or six of them running (as if your own network), perhaps on different topics! (Powerful!)
Not only do you get the exposure of having MULTIPLE SITES linking to you... you can also earn cash from selling prime ad spots!
Put banner ad code on the site... Put banner ad code IN the script that they use!
Or add your Google Adwords to the page and earn from that!
And even better, when you purchase this script, you get the MASTER RESELL RIGHTS so you can sell it on your own web site and keep 100% of the profits!!!
The "CyberSnickersTM complete system is priced at $147.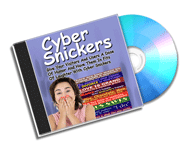 However for a limited time only, we'll offer you an introductory offer of only $97, because I've JUST decided to start selling it. That's right, a whooping $50 off.
You don't want to lose out on the visitors, the linking strategies and the mailing list members YOU could be getting by not joining now, do you?
GET IT NOW!
Only $149
Add To Cart
Sincerely,
Rohit Seth