Crushlink Script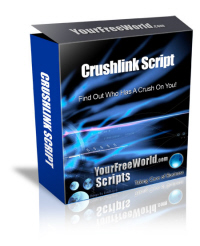 Now Is The Perfect Time To Let Your Site Visitors Have Some Fun!
This php script allows your site visitors to signup to find out who has a crush on them. A fun, social script that's easy to administer, you can add as many crushes as you like, and easily manage the users. A global mailing function is also available so you can keep your members up-to-date on the latest news. If you run a social network or community based web site, this would be a good addition to make your site visitor's experience more interactive.
Demo:
Terms & Conditions
One License is for a single Domain only.

Reseller License allows you to use this script on as many domains as you like.

With Reseller License, you can sell this script and keep 100% of the profits for yourself.

Resellers are not permitted to sell the Resell License to others, you can only sell the script.

Resellers cannot sell the script below 10% of our asking price.

With Master Resale Rights, you can sell the script , Resale Rights as well as Master Resale Rights. But you cannot sell the script or Resale Rights or Master Rights below 10% of our asking price.

All copyright notices used within the scripts MUST remain intact.
Script Features
Easy management

Define Crushes

E-mail all members

View/Edit/Delete members

And more....
Requirements
Unix/Linux Server

PHP 4.0 or higher

Mysql Database Support
Notes
The design of any HTML pages, including interfaces, must be changed and/or modified by yourself.
For a limited time, we will install this script for you absolutely FREE!