Blog Blaster Script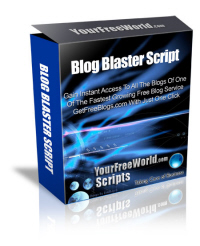 Blog Blaster can be one of the most useful tools for any online marketer.
If you are going to find SUCCESS with Internet Marketing, you have to stay on top of the most effective trends in web marketing and also fully take advantage of them. The world of Internet sales and search engine ranking is unbelievably competitive. It is not enough to submit your web site to the search engines, you have to fight to reach the top and then fight even harder to maintain your position as top dog! The reality is, this can only be done with the very best web marketing tools and the most effective methods.
Blog Blaster Networks are an innovative idea in Web Marketing! You have to get on the bandwagon early if you are to reap the big rewards that are always seen by all early followers of a good thing.
We have created an extremely simple tool that does not need any special software or downloads on your computer to function. Our tool is so simple to use that even if you have only been using the Internet for 2 months, you can handle it!
This script contains an excellent ad selling feature for you by which you can sell top and bottom sponsor ads at your website and make good money from it.
This script is easy to install and comes with a Free Installation so if you need any help in installations we will install it for no extra cost.
We had already written some good sales text for your blog blaster so you can start your blaster right away .
And the best thing is that if you will buy it now you will get this script for just $349 $149 only. So if you will start your own Blog Blaster Site and just get 5 members for membership fee of $59 , you will earn $295 which will give you back your script purchase fee and $146 profit also and you can definately get lots more members as this is one of the most demanded tool on the net.
Demo:
Requirements
Unix/Linux Server

PHP 4.0 or higher

Mysql Database Support

Ioncube Loader

GD Library

cURL
Terms & Conditions
One License is for a single Domain only.

All copyright notices used within the scripts MUST remain intact.
Notes
The design of any HTML pages, including interfaces, must be changed and/or modified by yourself.
Script Features
Set the Memberships Types Free/Pro/Both

Set the Membership Duration

Set the Membership Fee

Set Referral Commissions

Add/Remove Blogs

Get Instant Access to all the blogs of one of the fastest growing Free Blog Service GetFreeBlogs.com with just 1 click for a little accessing fee. All the new blogs that will be added to GetFreeBlogs.com will be automatically accessible with your blog blaster.

Banner Ad Selling Feature

View/Edit/Delete Members

Mail Members

Paypal compatible and you can also add 5 more merchant accounts of your wish.

Edit Your Pages by placing the HTML code into the system for the FAQ, Home, Logout and Member's Area Home pages.

Customise the welcome, account upgrade, referral notification and other emails.

Add/Delete ads and banners for members to promote your service.

Set the YourFreeWorld.com Scripts Affiliate ID to earn commissions from script sales from your ID.

And more....
Script with
Single Domain License
Only $149
Add To Cart
For a limited time, we will install this script for you absolutely FREE!