Viral Mailer Script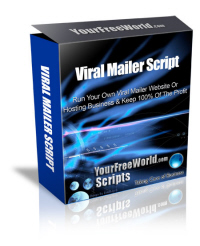 Run your own Viral Mailer website or hosting business and keep 100% of the Profit!
BBInnovate Viral Mailer is a new and innovative script that will revolutionize internet marketing.
A Viral Mailing List is built by its members, who each can build their list over several levels - down to 10 tiers. Mailings will go out to all members in their downline only. As its over 10 tiers, they will only receive 10 return emails, which increases the visibility of the ads being sent.
It has all the advantages of a safelist, but left all the disadvantages behind. Current safelist admins will love this script, as it has excellent features - rivalling any safelist script out there. Members will love this as they can rest assured their ad WILL be seen.
Every safelist host and owner knows what the biggest problem in a safelist is. The vast amount of emails generated, not to mention the bounces that are the unavoidable side effects of mass mailing.
Demo:
Requirements
Unix/Linux Server

PHP 4.0 or higher

Mysql Database Support
Terms & Conditions
One License is for a single Domain only.

Unlimited Use License allows you to install this script at multiple domains or start your own hosting service.

All copyright notices used within the scripts MUST remain intact.
Notes
The design of any HTML pages, including interfaces, must be changed and/or modified by yourself.
Script Features:
Easy management

Complete control of all settings right from your web browser. Save with one click.

Sell banners and upgrades. Just set the price and the script lists this

Edit/delete/add/upgrade with ease - all directly from the browser.

Edit the text of the main page and the members page from your browser.

6 Ready to use templates

Members Features

Have every member in your downline help you build your mailing list.

Upgrade and receive random signups

Earn commission by referring new members.

Buy banners. View full stats for your purchased advertising online.

Post in text or html.

And more....
Script with
Unlimited Use License
Only $199
Add To Cart