Advanced Forcedmatrix Script
Exciting New Forced Matrix Script Makes It EASY
To Build An Instant MLM Program That Pays!
If You're Looking For A Special Matrix Script That Adds Value To Your Site
& Attracts Signups... Then This Is It!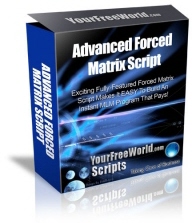 From the Desk of Rohit Seth, CEO YourFreeWorld Scripts

I'm proud to showcase my latest script here for your perusal. It's an advanced, enhanced version of my very popular Forced Matrix script and will prove to be just as popular.
The perfect solution for webmasters looking to attract groups of network marketers to build a solid, sustainable MLM business. It comes with new features, such as:
Comes with easy-to-follow instructions for the Admin control panel, so you can setup your program without a hitch.
Setting the matrix dimensions from the admin back office. Eg. 2x2.
Capacity to take up to 10 x 10 downline levels.
Set the entry fee to become a member and be entered into the matrix.
Ability to set the payout for each member that cycles through to complete the matrix. Eg. $100.
Ability to set the referral's matching bonus for the member that refers affiliates who complete the cycle. Eg. $50.
Allowing cycled members to be re-entered into the matrix under a new position.
You can also add 5 more merchant accounts of your wish.
Edit Your Pages by placing the HTML code into the system for the FAQ, Home, Logout and Member's Area Home pages.
Customise the welcome, account activation and other emails.
Add/Delete ads and banners for members to promote your service.
Set the YourFreeWorld.com Scripts Affiliate ID to earn commissions from script sales from your ID.
The benefits should be outlined to your prospects to suit your particular settings. For example:
Our matrix offers the following benefits:
2x2 forced matrix. Yes, you do get spillover!
Build your business down 10 downline levels.
Very affordable $25 fee to be entered into the matrix.
$100 payout for each completed matrix cycle.
Referral's matching bonus of $50 for every affiliate you refer that completes a cycle.
Free re-entry into the matrix under a new position after you first cycle.
To see the admin back office demo of advanced forced matrix script, please click here and enter the Username admin and password admin to gain access.
To try out the main site demo, please click here to see the advanced forced matrix home page and other pages.
To check Live Sites using this script, please click here to view.
Don't forget, that on your own site, you can also add signup bonuses, extra graphics, newsletter signup form and more options to suit your business. It makes good business sense to provide downloads to the value of entry, so your program isn't considered as a 'pyramid scheme'. Members should receive something instantly for their payment in the first instance to add credibility to your program. Also, you might want to consider including testimonials from members who have cycled when you start promoting your new site.
This script will easily fit in with the look and feel of your site, by adding the header and footer templates from your existing site.
Requirements
Unix/Linux Server

PHP 4.0 or higher

Mysql Database Support

Ioncube Loader

GD Library

cURL
Terms & Conditions
One License is for a single Domain only.

You are not allowed it to use it at more than 1 domain or sell / lease this script in any form.

All copyright notices used within the scripts MUST remain intact.
Notes
The design of any HTML pages, including interfaces, must be changed and/or modified by yourself.
Script with
Single Domain License
Only $197
Add To Cart
For a limited time, we will install this script for you absolutely FREE!