Ad-Exchange Script
"Want To Add Value To Your Site & Generate Boatloads Of Traffic At The Same Time?"
You Can't Go Past Our Fresh, NEW Ad Trading Script!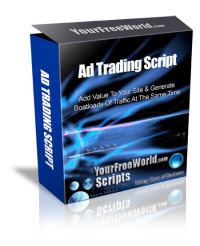 Here's a script for a service that will practically run itself for you. NO long hours configuring the information, NO manual verifying and very low
maintenance, this script is ideal for anyone looking to build a list, advertise their programs and web sites and even funnel their new members into other associated programs to build multiple income streams.
Do you know anyone who would say "No" when being asked if they want more traffic to their site? It's isn't very likely is it? That's why when you purchase and release your new ad trading program and your site visitors realise the benefits they can receive and all for free, they'll be amazed and you'll have people clamoring to join your program.
How does it work?
It's a very simple concept and that's what makes it to successful. It truly does work.
Members signup for free, then they copy and paste the special banner code to their web site. For every 1000 banner impressions shown on their web site, the member will receive one point. The points can be redeemed for advertising. Simple and members simply LOVE it!
Now if the member doesn't have a web site of their own, it doesn't matter because they can participate in the email marketing part of the program. Experience online marketers will no doubt participate in both available options.
When member's signup, they choose three categories from a list that they would like to receive emails about. This is permission marketing at it's finest. When members redeem points, they can also redeem for targeted email advertising as well as banner impressions. This is sought after advertising by online marketers looking for more outlets to expose their business.
The cost for an email advert is one point. Member's who read the emails are encouraged to click on the tracking link and earn points to be redeemed later. Currently the setting is 25 clicks for one point, but this is entirely configurable by you, the script owner.
Members can also earn points by referring new members through their affiliate link. Currently the settings are set to reward one point for any of the following:
- Refer 5 people on your first level
- Refer 25 people on your second level
- Refer 100 people on your third level
This is where viral marketing comes into play as well. It's very easy to recruit new members to signup for free and why wouldn't they? They have so much to gain and virtually nothing to lose! The more members who signup, the more your members will advertise and the more you can advertise to your members as well.
The Ad Trading script is ingenious yet simple, easy-to-follow yet effective, not widely known about yet, (which is to your advantage), but destined to become very popular.
Get your Ad Trading Script today while the concept is still fresh & new and add
quality & value to your web site services suite today!
Want to try it out for yourself first hand to see how easy it is for new members to signup?
Demo:
Terms & Conditions
One License is for a single Domain only.

You are not allowed it to use it at more than 1 domain or sell / lease this script in any form.

All copyright notices used within the scripts MUST remain intact.
Requirements
Unix/Linux Server

PHP 4.0 or higher

Mysql Database Support

Ioncube Loader

GD Library

cURL
Notes
The design of any HTML pages, including interfaces, must be changed and/or modified by yourself.
Script with
Single Domain License
Only $97
Add To Cart