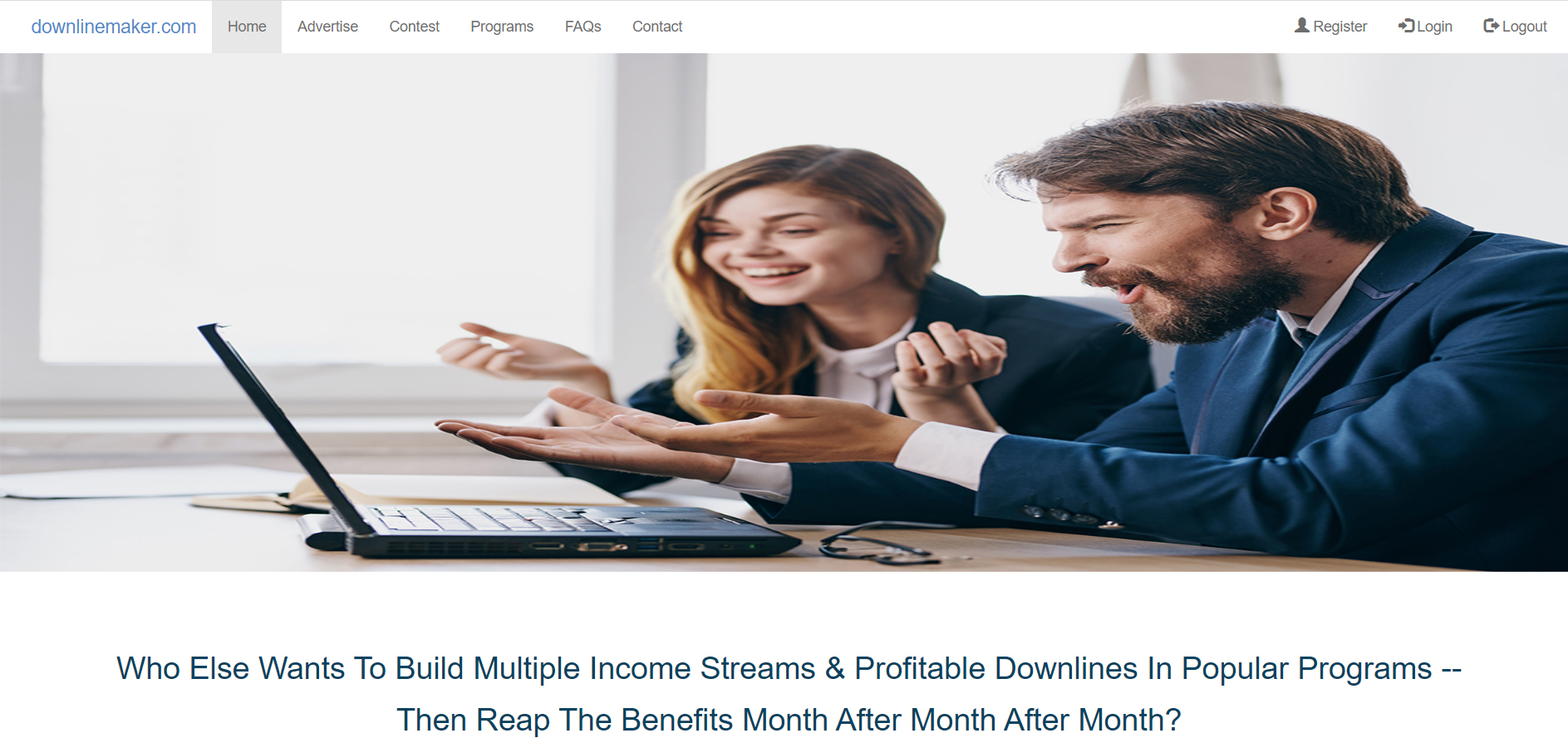 downlinemakers.com
Downlinemakers.com - Maximize Income with Diversified Earnings and Profitable Downlines.
About the business :
Downlinemakers.com is using Premium Downline Builder Script from YourFreeWorld Scripts and began growing business naturally by installing the script. The script continues to receive updates and new features, such as the subscription module, from YourFreeWorld team, providing new owners with the opportunity to monetize the site.

We are looking for a new owner to take over and continue growing the business by promoting it.
KEY HIGHLIGHTS ABOUT THIS BUSINESS MODEL :

Straightforward and easy to implement (SAAS module)

Different ways to make money

Used a reliable server from YourFreeWorld Hosting services with 99.9% Uptime
WHAT IS THE DOWNLINE BUILDER BUSINESS MODEL?
This site is a downline builder system that means people can promote multiple websites using the same link.
Let us suppose you joined multiple sites and you want to promote all of those to the same people then you can add them as programs to downline builders and now when you promote your link, you will be promoting multiple sites using the same link.
The Premium Downline Builder Script from YourFreeWorld Scripts allows you to build downlines for multiple programs simultaneously, making it an efficient tool for growing your business.
This system can be used for targeted programs or for a variety of programs, giving you the flexibility to build downlines for the programs that align with your goals. Additionally, this tool also allows you to monetize your website by selling banner advertisements and providing a way to keep track of members and communicate with them.
Members can join all the programs you have added and add their affiliate IDs, which enables them to promote a single URL while building downlines for multiple programs at once. The system is easy to implement and comes with complete instructions to guide you through the process.
No adsense, no revenue, fresh site.
HOW TO MANAGE THIS BUSINESS MODEL ?
This website is using a script of YourFreeWorld.com Scripts. Script is completely open source and built in core php.
Only admin area source code is encrypted using ioncube loader due to 1 domain license restriction.
HOW TO BUY THIS WEBSITE ? :
Buyer will have to make payment first. As soon as we receive confirmation, we will start the transfer process .
CAN I RESELL THIS WEBSITE? :
Yes of course, you can resell it to anyone for any price of your wish but this platform is using yourfreeworld.com single domain license script so you can't change the domain name or install it at multiple domains, you can sell this complete site as it is.
MONETIZATION METHODS :
Ads

Services & Subscriptions
SALE INCLUDES THESE ASSETS :
Domain Name (Domain is registered using namecheap and internal transfer can be done for free and if you are moving to other provider they might ask for 1 year renewal.)

Free 1 Month Business Hosting from yourfreeworld.com/hosting ( valued at $12.95/mo )

Website files

Script License transferred to your name

Email address

Brand assets (logos, etc)

Facebook page transferred to your facebook account
PLATFORM USED :
YourFreeWorld Downline Builder Script
POST-SALE SUPPORT :
Included. Transfer support to help make the transition as smooth as possible and ensure your website is up and running.
Your satisfaction is of central importance to us.
Please don't hesitate to contact us, we are always glad to help.
Live Preview